Toki (トキ, Toki?) is Legoshi's grandmother and Gosha's partner. She is a minor character in Beastars, only appearing in flashbacks.
Appearance
She was a beautiful gray wolf. Her daughter Leano bears a striking resemblance to her. Her facial fur was slightly curled upwards, and she had big, shining pupils with deep set eyelids.
She was seen wearing a winter coat with a plaid scarf in the brief flashback when Gosha saved her from a group of criminals.
Personality
Not much is known about her, but she was soft, very kind and accepting. She once described Gosha's scales being as beautiful as jewels. She was also a bit slow to realize just how much danger she was in and did not show any signs of panic. Yahya thought of her as an 'airhead'.
Family tree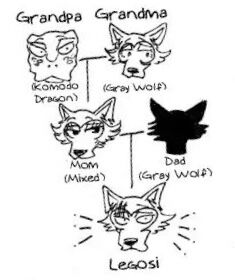 Community content is available under
CC-BY-SA
unless otherwise noted.